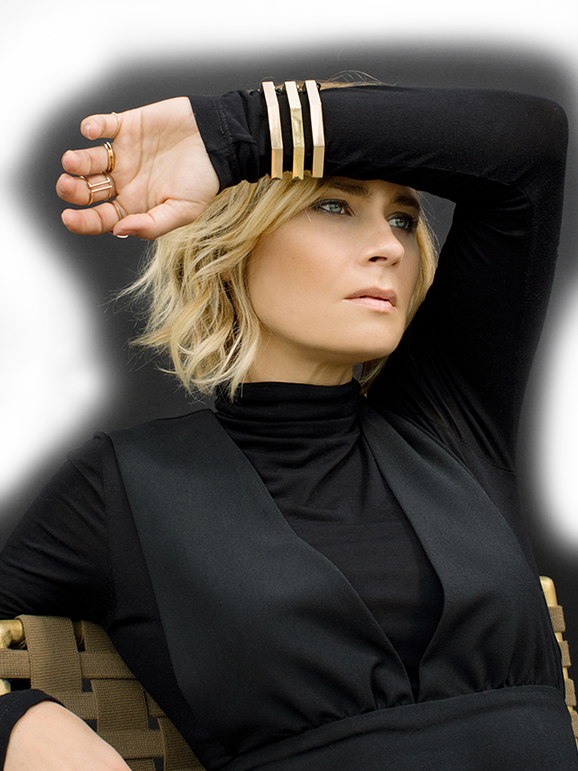 About Kristina
I imagine if you're visiting me here, you already know that I'm an ACTOR.
(You most likely saw me on the big screen as sassy, foul mouthed Lynda in Rob Zombie's HALLOWEEN, on your television set as the Serbian serial killer Miranda Dracar in CRIMINAL MINDS or perhaps most recently heard my voice as the Italian Nonna in the animated series AMERICAN DAD.  But perhaps you didn't know the extent of my VOICEOVER work or that I studied DIRECTING at the NYU GRAD FILM program. Or that I was on two seasons of the GERMAN SERIES, Professor T… you guessed it: speaking in German!) Chloe, Is parantheses stuff necessary? Or should I skip to next part?
I grew up in the city that never sleeps, NYC, where I was raised by WOLVES. Just kidding. I WISH! Have you seen that documentary? No, I was raised by international parents who TRAVELED THE WORLD with me for which I'm so grateful.  My mother was knighted into the National Order of the Legion of Honor, the highest French order for military and civil merits, for her exceptional charity work and my father is an Emmy award nominated documentary producer. To see how I've followed in my mother's footsteps and read more about CHARITABLE organizations I support, click here (goes to charities I support section- Caring For Colombia video, Hollygrove event photos, Best Friends Animal Society). To see how I've followed in my father's footsteps, click here (goes to directing page and the clip Open Hearts Haiti) to see some of the DOCUMENTARY footage I've shot for DOCTORS WITHOUT BORDERS in Haiti!
My love for acting and directing started at a very young age with the theater in NYC. I wanted to spend every minute I could on the stage. But I was also a competitive equestrian. I had my own horse, rescued from the racetrack, that I trained and took care of. In fact, my college application essay was about making the difficult decision of reducing my time with my horse in order to pursue acting more professionally as I began to do more commercials and off-broadway work.  The choice was tough but the essay got me into Dartmouth College from which I graduated cum laude with a degree in politics. All starting to make sense now, right? Acting, politics, languages… I'm a spy! Well, no… the CIA did interview me in college… but I think having a dual citizenship disqualified me from that service.  So instead I get to play make believe and live my dream without fearing for my life!
SINCE 2008-2014
Nullam imperdiet, sem at fringilla lobortis, sem nibh fringilla nibh, idgra avida mi purus sit amet erat.
2012-2014
Nullam imperdiet, sem at fringilla nibh, id gravidrus sit amet erat.
2014-2016
Nullam imperdiet, sem at fringilla lobortis, sem nibhets
2017
Nullam imperdiet, sem at fringilla lobortis, sem nibh fringilla nibh, id gravidrus sit amet erat.

My Philosophy
I value these things above all else: honesty, kindness and integrity.
Tell the truth, do it with love and stick to your word.
Working in film and theater, as an actor or a director, is not a one person endeavor, it's a team effort and everything functions only because of everyone's donation. I hold people to a high standard because I hold myself to an even higher standard and if I put my heart and soul into my work, I hope the rest of my team does as well.
When I was 5 years old, my parents gave me an antique book to hold. They left the room and as I was looking through it, I accidentally ripped one of the pages. The book probably had 1000 pages. I was terrified. But rather than just close the book and lie about it, I called my mother into the room, crying and showed her. She couldn't believe that I had felt the need to confess this to her and immediately told me I wouldn't get in trouble because I told the truth. Some people are born with the inability to lie. I'm one of those people. Truth will set you free.
Don't live life in fear.